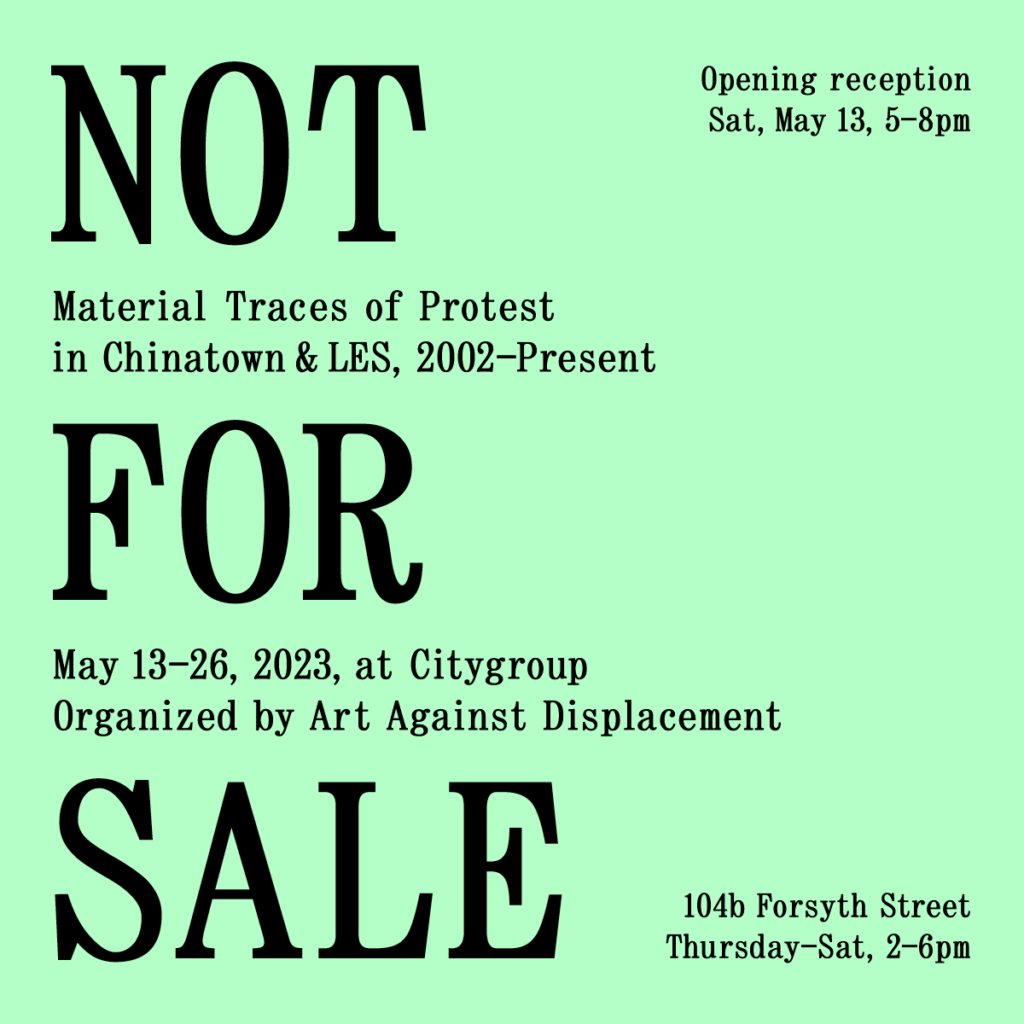 In solidarity with decades of community activism in Lower Manhattan, Art Against Displacement presents Not For Sale: Material Traces of Protest in Chinatown & LES, 2002–Present at Citygroup. The exhibition will be on view through Friday, May 26th, with an opening reception on Saturday, May 13th, and related programming throughout the month.
Not For Sale resurfaces protest signs and other ephemera associated with the organizing efforts of the Coalition to Protect Chinatown and LES, spanning from the immediate aftermath of 9/11 to the present day. As an active Coalition member, Art Against Displacement has participated in the production, dissemination, and deployment of protest ephemera since its inception in 2016. Not For Sale surveys the visual character and ingenuity of ad hoc, DIY signage in several defining campaigns of the past two decades: Beyond Ground Zero, the Chinatown Working Group Plan, and actions against luxury development in Two Bridges, the construction of a new jail on the site of the Manhattan Detention Complex (known as the Tombs), and the Museum of Chinese in America's complicity in local displacement. As creative practitioners, Art Against Displacement recognizes the indispensability of mark-making to collective protest: accordingly, Not For Sale aims to lift up, assemble, and archive the material creations of anonymous artists, activists, and community members.
Not For Sale will be accompanied by an offsite screening featuring the work of Sihan Cui, Zishun Ning, Lily Jue Sheng, Alvin Tsang, and Siyan Wong, as well as a teach-in about the Chinatown Working Group Plan. More details will be announced soon.
Many thanks to Citygroup, the Coalition to Protect Chinatown & LES, the Chinese Staff and Workers' Association (CSWA), National Mobilization Against Sweatshops (NMASS), Fugitive Materials, and all New Yorkers who struggle for housing, labor, and land justice.


Other news
Sihan Cui is currently featured in the exhibition Model Home (New York), After Wisconsin Death Trip at Carriage Trade (277 Grand Street) through May 21, 2023. Lily Jue Shengis participating in Kabayitos Microcinema at The Clemente (107 Suffolk Street) on May 21– 22, 2023. Their upcoming film is a collaboration with Tzu-An Wu called Mazu Collage: Unreliable Narrators, a film presenting allegorical, dialectic, and pedestrian tales of popular belief in the sea goddess Mazu. Siyan Wong's solo exhibition Lives of Three Canners will take place at Gallery 456 of the Chinese American Arts Council (456 Broadway) from October 27 to November 17, 2023.