AAD invites artists to submit a design for a mural on the front gates of CSWA/NMASS that responds to a detailed vision outlined by these organizations.
The headquarters of the Coalition to Protect Chinatown and the Lower East Side are located at 345 Grand Street, at the two sister organizations: CSWA (Chinese Staff and Workers' Association) and NMASS (National Mobilization Against Sweatshops). We are excited to use our creative labor to execute their vision and help honor these organizations that have welcomed us into their efforts. This is the HQ of the Two Bridges No Towers fight, as well as many other important organizing campaigns. Our mural will catch the eye of people passing by, and let them know that this is a center of worker power. Even while the gates are down and the space looks dormant, the painting will be an exciting reminder that a network of people are continuously engaged in supporting one another for a better collective future.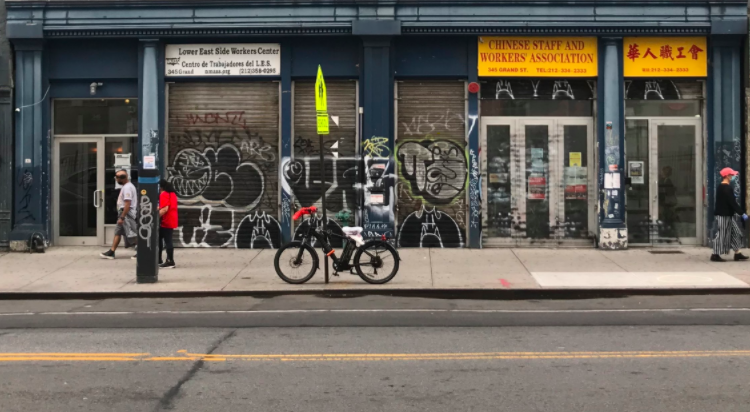 ABOUT THE ORGS
Chinese Staff and Workers' Association
Founded in 1979 by a group of Chinese restaurant workers and workers from other industries who came together and founded the Chinese Staff & Workers' Association (CSWA). Today CSWA has a membership of over 1,300 workers from various trades and ages, injured and non-injured, documented and undocumented.

CSWA brings together workers across trades to fight for change in the workplace as well as in the community-at-large. Their work prioritizes connecting workers' individual struggles for daily survival into a collective force to change the root causes of these problems in all aspects of workers' lives. In response to the super-exploitation that many workers face on a daily basis, and to the multiple barriers of race, gender, age, and immigration status that often compound exploitation, we emphasize developing leadership among working people in NYC's Chinatowns and to bridge the divides within the Chinese community and beyond; we believe working people, as the creators of society will be the agent for change.
National Mobilization Against Sweatshops
NMASS is a workers membership organization that was founded by young working people in 1996 in New York City. We have a Workers' Center in the Lower East Side of Manhattan, and members and supporters all over the country.

We are injured workers fighting for our right to compensation and medical benefits; working people from Lower Manhattan suffering health and economic problems because of the government's discrimination against low-income people following the 9-11 disaster; mothers demanding recognition for the work we do raising kids; garment, restaurant, construction, office and other workers standing up to long work hours and other sweatshop conditions; students, white collar workers, and others who feel the system is more and more limiting our choices, downsizing our dreams and channeling our lives.

We want the right to control our time, beginning with the right a 40-hour workweek at a living wage for all– whether we are currently overworked, underemployed, unemployed or working at raising children or doing other care-taking in the home. We want equal rights for all workers and an end to the superexploitation of workers of color and women and the liberation of the underclass of undocumented slave labor. We want an end to sweatshop conditions and an end to the sweatshop system. We want control over our health. We demand an end to the racist displacement of people of color. We want control over plans that affect our communities, at all levels of government. We want control over our own culture.

---
MURAL DESIGN SUBMISSION INFO
Deadline extended: November 15, 2020