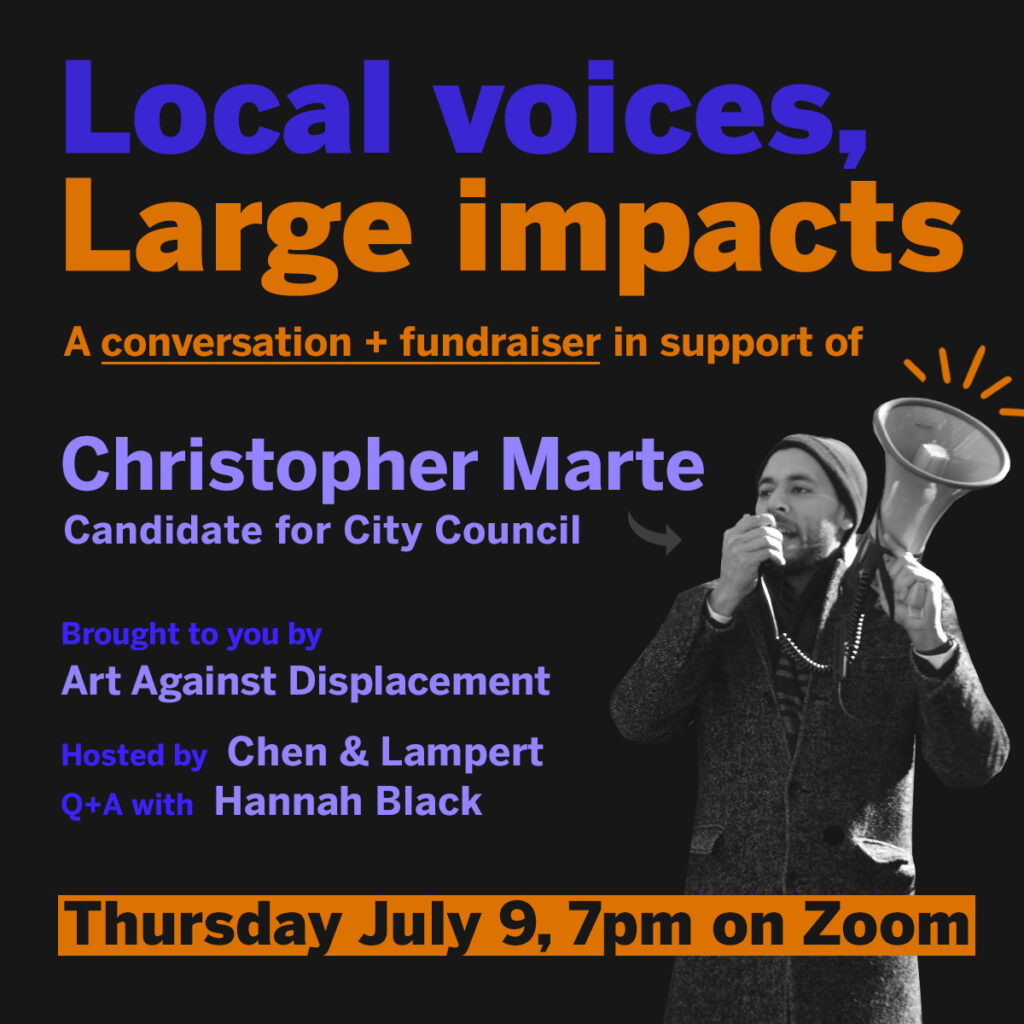 The upcoming 2021 City Council elections hold huge promise for our city. We can elect a City Council who can end the displacement of tenants and closure of small businesses by passing community based rezoning plans. They can re-direct funds to our schools, arts, hospitals, and social services instead of the NYPD. They can create a comprehensive climate plan that supports green transit, protects Lower Manhattan from future flooding, and keep our air clean.
Art Against Displacement is excited to endorse
Chris Marte for City Council District 1 in Lower Manhattan!
Chris Marte is a born-and-raised Lower East Sider that has a track record of community activism. He supports the Chinatown Working Group Plan to defend the last working-class immigrant neighborhoods in Manhattan. He has organized neighbors against the building of a new skyscraper jail in Lower Manhattan and has committed to defunding the NYPD. He has created new community gardens in NYCHA and advocates for cleaner air through green transportation initiatives.
Please join us next week for a
Conversation and Fundraiser for Chris Marte on Zoom
with special guests Chen & Lampert and Hannah Black
Chen & Lampert is a consultancy based in New York City helmed by curator Howie Chen and artist/curator/archivist Andrew Lampert to deliver targeted strategies and incisive solutions to every level of the art world paradigm. With over 38 combined years of in-depth art world experience, Chen & Lampert provide comprehensive services and personalized solutions to artists, galleries, non-profits, institutions and collectors. Their ethical advice column 'Hard Truths' appears monthly in Art in America.
Hannah Black is an artist and writer living in Brooklyn.
To RSVP and submit questions for Chris, click here
Details:
A Conversation + Fundraiser
in support of
Christopher Marte for City Council
Hosted by Chen & Lampert
Interview by Hannah Black
presented by AAD
Thursday, July 9 at 7pm on Zoom
$25 suggested donation
Community candidates need community support!
You can support Chris's candidacy by:
– Attending our event on July 9th at 7pm
– Donating to his campaign here
– Follow his work at @chrismartenyc on Twitter and Instagram